6 TRUTHS TO KNOW BEFORE YOU BUY EYEWEAR
You walk into Footlocker for a pair of Nike running shoes and the price tag is too good to be true. You take a shoe out of the box and realize it doesn't have laces or insoles, in fact the technology that makes it a Nike shoe is being sold separately. The sales associate informs you that you'll have to pay for those extras.
You think it sounds crazy because you buy Nikes not just for the look but also for the features that helps you perform better. What is true about footwear is true about eyewear. Great eyewear needs to look good and help you perform better too.
WHY DO SO MANY OPTICAL STORES OPERATE ON TOO-GOOD-TO-BE-TRUE PRICES?
At the Spectacle Shoppe we know you are getting SPIFFED. It sounds like a bad word – we'll let you decide.
SPIFFS are add-ons to your eyewear, also known as upsells that benefit the salesperson because they receive financial incentives for your purchase. Your eyewear technician is taught a sales strategy to offer you a "Good," "Better" and "Best" option. A reliable and honest optical shop will set the baseline, or the "Good" option, to include the add-ons that are absolutely essential for optimal vision. If an eyewear technician works under a SPIFF system, you receive the too-good-to-be-true option, like the shoe without the laces, insole, and technology. The technician offers you the eyewear add-ons for a price, part of which she will pocket as a reward.
AT THE SPECTACLE SHOPPE, WE DO NOT SPIFF.
You deserve to see clearly. The necessary eyewear features are always part of Spectacle Shoppe experience. While specific lenses and coatings are a must, others are accessories and the need for them depends on your lifestyle. Here is the truth about three eyeglass coatings and three lenses you need to know before you purchase your next pair of glasses.
1. DO I NEED HIGH INDEX LENSES?
Yes, but only if you have a strong prescription because high index lenses are thinner, add comfort and are more aesthetically pleasing than traditional thick lenses. A strong prescription is considered to be +/-3.00 D or more.
2. DO I NEED ANTI-SCRATCH COATING?
Yes. The anti-scratch coating is necessary because scratches are common. You purchase glasses to optimize how you see the world – we do not want you to see the world through scratches and we hope you feel the same way. Beware of optical shops that offer anti-scratch coating as a SPIFF.
3. DO I NEED UV COATING?
Probably not. Any lens and any coating will greatly reduce the amount of UV light your eyes are exposed to, so there is some UV protection built-in. We're huge fans of Transitions and definitely lean toward that recommendation to ward off UV light. However, if you don't have Transitions, we'll typically suggest clip-on sunglasses or regular sunglasses that protect your eyes from long-term sun damage as opposed to a UV coating.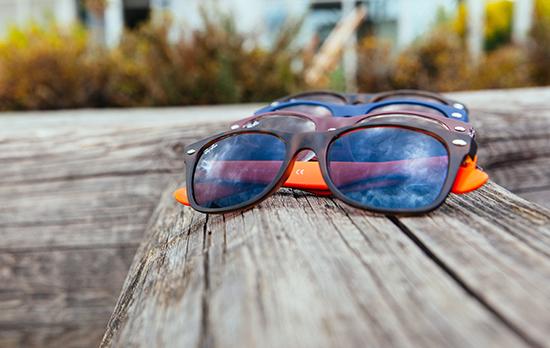 4. DO I NEED ANTI-GLARE/ANTI-REFLECTIVE COATING?
Yes. Your eyewear is meant to optimize your eyesight and glare does not support the mission. Anti-glare/anti-reflective coating enhances your quality of vision especially for driving at night. Bonus: With an anti-glare/anti-reflective coating people will see your eyes and not their own reflection in your glasses. At Spectacle Shoppe, anti-glare/anti-reflective is a must.
5. DO I NEED TRANSITION LENSES?
Maybe. What are your lifestyle needs? If you find yourself moving from an indoor space to an outdoor space multiple times in a given day and you don't want the hassle of changing your eyewear, Transitions are extremely convenient. At Spectacle Shoppe we love Transition Lenses because it's an all-in-one option that eliminates the need for separate glasses and sunglasses and they provide 100% UV protection. See our post on the Pros and Cons of Transitions Lenses.
6. DO I NEED POLARIZED SUNGLASS LENSES?
Maybe. Do you play outdoor sports or drive frequently during the day? Polarized sunglass lenses have a special filter that blocks out intense reflected light to reduce glare. However, if you operate heavy outdoor equipment that requires you to view an LCD screen, polarized sunglass lenses make it difficult to see the images.
At the Spectacle Shoppe, we do not SPIFF. The next time you want to buy eyewear that helps you see the world at its best, visit our Vancouver optical store. We know that finding the perfect pair of glasses feels like climbing the Grouse Grind. Our job is to remove the grind.
Did you like this inside scoop on eye care? Sign up for more free scoops here.
---
---